European Overseas Airways Company encourages pilots to fly online in Simulated Air Traffic Control (SATCO) environment. This is not in any way mandatory for individual's advancement in EOAC rank ladder. The goal of SATCO controlled flight is to achieve the higher level of realism by virtue of human interaction, between a pilot, controllers and other pilots on line.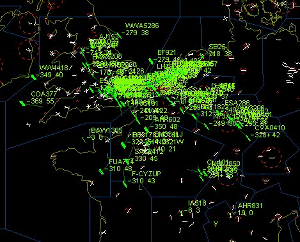 SATCO screen
EOAC aims to facilitate all necessary support to pilots in their research and relations with local SATCO divisions; if you have any questions or concerns with Swiss FIR or SATCO in general, please send us a question.
All pilots flying in SATCO environment are required to be familiar with Rules of Conduct and use of SquawkBox before logging on the SATCO server. The goal of SATCO and IVPA is to provide a realistic ATC environment for pilots and controllers, while having fun. It is the responsibility of everyone online to maintain a professional atmosphere.
EOAC encourages pilots of all skill levels to take part in SATCO flights; we encourage every Flying Officer and Captain just as Instructor Pilots to participate in simulated air traffic environment.
EOAC & SATCO Training

The ones who are just entering this arena are encouraged to take the advantage of training nights (schedule) hosted by VACC-SAG, parent organization of Swiss FIR:

Every Monday from 1900 (local), VACC SAG holds its training evening. Traffic flows between two VACC SAG (or nearby FIR) airports. Full ATC is provided at each airport and en-route.

Training nights are excellent opportunities to gain the experience; they give new pilots the chance to meet online with instructors who can explain how things work in SATCO world.
Fly-in Events
"Vantage" will participate in online fly-in events, whenever possible, both in Europe and overseas. Fly-ins are not the competitions, on the contrary -- they are the pinnacles of flight simulation in coordinated ATC environment, when you have a chance to interact as the pilot with hundreds of other colleagues and controllers across the whole world, in real time.
EOAC will give equal attention to fly-in events of all sizes, local or regional in every market it has in scheduled service.
EOAC will continue to provide additional SATCO related information on this page. Please visit this area again.